Nasal defects can be congenital but are mostly caused by trauma or cancer. Nasal reconstruction of these defects requires meticulous planning with attention to both function and esthetics. A few basic principles of nasal reconstruction should always be observed:
Replace like with like. For nasal reconstruction, this means using skin adjacent to the nose. The most common donor site for nasal reconstruction is the forehead, which has the best skin match in terms of color, texture and thickness. Transplantation from skin from the forehead to the nose is done by using a pedicled forehead flap.
The face can be divided in different esthetic subunits, based on skin quality, anatomical borders and 3D contour. These subunits are based on the visual observation of the "normal". The most defining aspect of the normal is contour and borders, as the skin quality can easily be camouflaged. The nose can be divided in different subunits: the dorsum, sidewall, tip, soft triangle, columella and alae (Figure 1). If we want to make a reconstructed nose look as normal as possible, attention must be paid to these subunits. This led to the subunit principle in nasal reconstruction: when 50% or more of a convex subunit (tip and alae) is destroyed, the whole subunit must be replaced. Merely filling the defect will give a patch like appearance and will not look normal. This might need sacrificing healthy nasal skin up to some extent. Restoring the contour and border of the entire subunit will give the optimal result.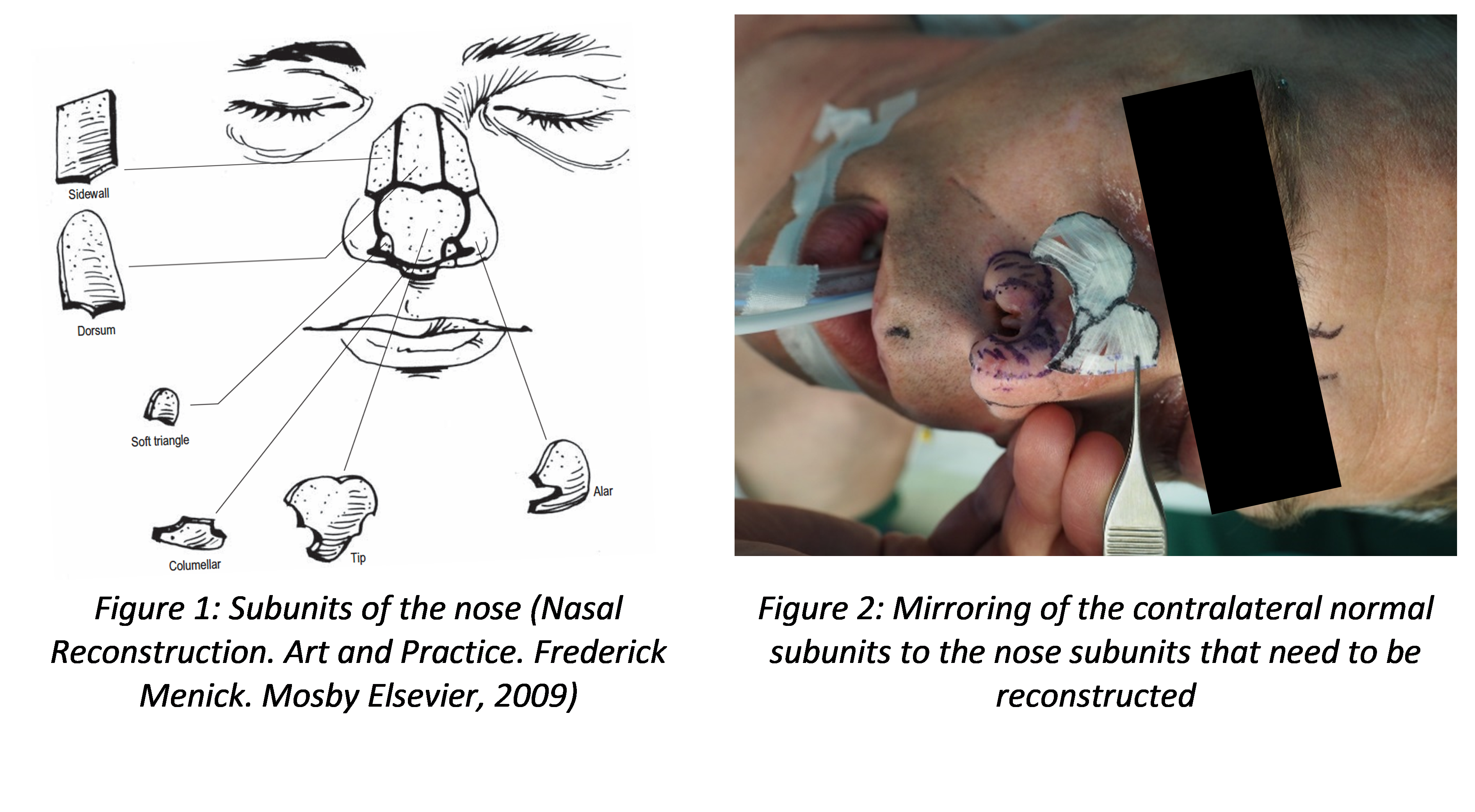 The design of the subunits to be reconstructed can be based on the contralateral subunits, if still present. A template is made to reconstruct the defect and should neither be too big or too small, as this will lead to distortion and asymmetry of the nose. A 3D template is made based on the remaining nose. The subunit borders are marked with a pen and covered with small pieces of tape in a criss-cross way. The ink will adhere to the tape, which can be removed as a mold. Excess tape is trimmed. This 3D mold is then converted to a 2D template by making small radial cuts. It is then reversed, as it represents the contralateral normal side (Figure 2), and used to design the forehead flap dimensions. This process is done at the beginning of the reconstruction and is time consuming. When there is no contralateral normal as reference, basic anthropometric dimensions can be used or the defect can be sculpted with wax to mimic the reconstructed nose, which is then used to create a template.